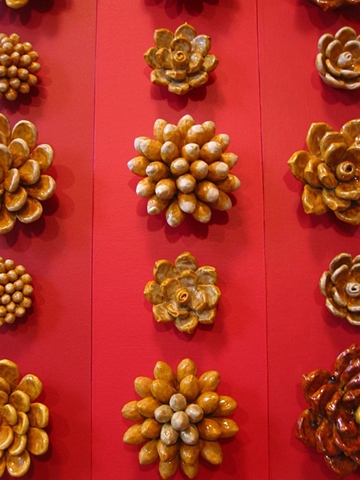 Allowing the material to speak for itself I embrace clay's tactile quality and create sculpture and installations inspired by the botanical world.
I look closely at plants, primarily cacti, succulents and flowers. Their forms are inviting and I make use of their structural elements as the basis for small-scale sculptures. I am fascinated by the act of their growth and I explore the mystery of this life force in my work.
Trees, bold and tall and varying in size and character, also draw me in. They are simple yet complicated, beautiful yet quirky and unusual. Deep in the rich earth their root system, sending water and nutrients, allows for growth. Tiny microscopic fungi carry messages to and from the trees, living in symbiotic relationships. I seek to capture this quality of inter-connectedness.
The arrangement of the objects is an important aspect of the work. Laid out on tables and shelves they become specimens of the natural world. Hung across a wall they are botanical worlds created in clay. The work, when placed together, speaks of beauty, growth and interdependence.